Mistress: Welcome back to our little party. Please don't mind the locked gates. *slides chains from around gatepost* We had a bit of trouble overnight. Apparently the neighbors called the cops. Said they saw someone walking through the graveyard out back. Herm…I'm not sure who that was. I would guess it was Julia's fine ghost (you remember my guest from the other day) but in case it was Van helsink, I decided to beef up security a little. A vampiress witch can never be too careful, can she? Nonetheless our party continues. *pokes sleepy minion with stick*
*Juli perks up* What's that? What's going on?
*Mistress sighs* Dylan, dear, remind me to put out employment applications before next year's Samhain party.

Juli: What was that?"
Mistress: I said, who's next on our guest list? Ah, yes. Dylan Newton!

Juli and Mistress…thanks for having me today! I've been reading all of the posts from the talented writers and have to admit I was a little frightened by Mistress. So, be gentle, and all that… ;)
Speaking of frightening…my favorite holiday is coming up! There's a reason I've written three paranormal romance novels…I adore Halloween! Every year we throw a huge Halloween party at our house. We say it's for our kids…but really, it's for my husband and I to get our scare on!
Last year, our theme was Zombie Prom (check out my pics here on Pinterest) and this year—to celebrate my novella's release (ANY WITCH WAY) and the contract for my next book (DESPITE THE FANGS) in 2014, we had a theme of Witches and Werewolves. Here is my witch picture. (Insert regular promo shot here)
Erm…Mistress? I said Witch—with a W, not a B.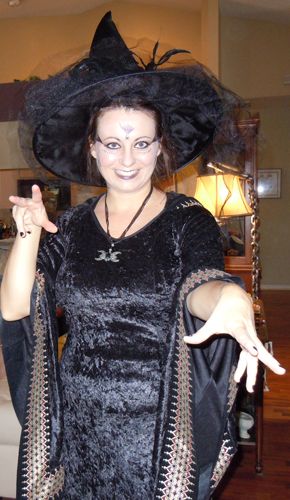 Mistress: I heard you, my dear. We wouldn't call you anything else. It's always nice to meet a kindred spirit. Any good witch is always welcome in our little castle!
Okay, that's my Witch shot.
Mistress: Lovely. And I love the hat!
Dylan: All joking aside, I have a deep respect for Wicca, and while I dressed as a more fantasized 'witch' for our party, I did a great deal of research to write ANY WITCH WAY. While the novella is fiction, many of the prayers and rituals are based on the real deal. In fact, one of the hottest scenes in ANY WITCH WAY is based on a ritual called "The Five-Fold Kiss" where the individual is laid out in a star pattern, and is kissed at all five points—the last point of the star being the most…erm, satisfying. ;)
But I can't post that excerpt here—it would be a spoiler and a tease. And Mistress, I assure you I am neither!
Mistress: Yes you're right. We'd probably do better to keep this party PG13. Is there another you'd like to share?
Dylan: I can post this scene—it's the opening to one of my favorite scenes between Lily and Joshua where she discovers the hot stranger she's just met is much, much more than a pretty face.
"You think you cast a spell on me? Like, saved me with your magic wand?" Lily crossed her arms. "You don't seriously expect me to believe that?"
"Yes, I do." The dark stars inked on Joshua's temple glowed silver in the moonlight as he grinned. "Except the last bit. Wands are for amateurs."
Then he swiped his hand through the air as if tracing a complex image, and tingling warmth cascaded through Lily. The heat coalesced to a tangible weight, like hands at her waist.
Lily gasped. She felt his touch, but his hands were nowhere near her!
"H-how are you…"
Joshua's brown eyes twinkled and he murmured in what sounded like another language. Instantly, the hypnotic sensation traveled up her arms in a swirling pattern, igniting her skin.
"Please." Lily breathed, not sure what she meant. Please stop? Or please don't stop?
Joshua's fingers curled at his side and the sensation evaporated.
Lily willed her voice not to tremble. "Okay, obviously you've got some weird street magician thing going on. I don't know how you're doing those tricks—,"
"Spells." Joshua interrupted.
"—spells," Lily continued, "But what's inside of me is dangerous. I know it's hard to understand, but I'm not normal. Something inside me is…damaged. It's like I'm—"
"Cursed," he finished with the exact word she intended to use.
Lily nodded.
Joshua's tattoos glimmered in the darkness.
"Your curse is why I'm here."
My giveaway today is a win it before you can buy it signed copy of ANY WITCH WAY—it's out in e-version now, but one lucky commenter will receive the first PAPERBACK version, signed and sent to them, when it is released in a couple of weeks! :) Plus, I'll send you one of my adorable WITCH promo pens right now, just because I can. So be sure to comment below for your chance to WIN one of these adorable guys! :)

Mistress: Oh my, that is cute! Does Office Depot sell those?
Juli: Do the things do housework? They'd be great for the corners I can't reach.
Mistress, I don't think you're eligible to win, because you were the hostess. With the most-ess, I might add!
Mistress: Why thank you, dear. That's true, alas. I have my own special little pen, though. Never fear.
(Juli: Yeah, one she keeps us in.)
Dylan: (Um, Juli. my tea did taste a little funky…just sayin'.)
Juli: Was it? I swear we ran everything through the dishwasher. Mistress, did you buy a new tea? *takes Dylan aside* I warn you, Night Mistress weird tastes. You know she does favor blood now and then, so she may've put a little in the potion–er, tea. You might not want to drink anymore.
*Mistress looks innocent* I have no idea what you two are talking about. The tea tastes fine to me–and why do you keep mumbling?
Juli: No reason in particular. I'm just thanking Dylan for joining us!
Dylan: Thanks for having me, Juli and Mistress!!
Mistress: You are most welcome, my dear. Thank you for coming. Here are Dylan's links again if you'd like to check out her books, or just say 'hi.' She gets really excited when there is something other than spam in her inbox! *g* don't we all. Folks, if you'd like a chance to win a signed paperback copy of ANY WITCH WAY as soon as it is released and the cute pen Dylan's offering, please leave a comment!
About Dylan Newton:
Dylan Newton was born and raised in a small town in Upstate New York where the local library was her favorite hang-out. Despite earning a degree in English Literature, Dylan spent more than a decade sidetracked by an executive position in corporate America before leaving to pursue her true passions: motherhood and writing. Dylan married her high-school sweetheart and they are busy living out their own happily ever after with their two incredible daughters in sunny Florida.
For more on Dylan Newton and her fine works see Dylan's Website:
Dylan's Blog:
http://www.dylannewtonwrites.blogspot.com/
Pinterest:
http://pinterest.com/dylannewton1/boards/
Facebook: