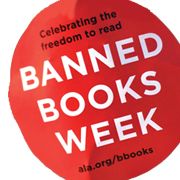 I've another banned  one for you. I've read this one a while back and while I understand why some might not like it…I don't agree with banning this series as it has been in some places. Especially on the grounds it got banned on.  I take a don't knock it til you try it approach with most books (I know who's looking at me going, "what about Fifty Shades of Grey"? Yeah, it's on my read-eventually list too). Anyway, this is one banned book I really enjoyed and that I wanted to share with y'all. Enjoy!
The Subtle Knife (His Dark Materials #2) by Phillip Pullman
The Subtle Knife is the second volume in Philip Pullman's controversial YA fantasy/steampunk series His Dark Materials. It's all a bit complicated to explain in the short space here, but succinctly, our young heroine Lyra has followed her scheming uncle Lord Asriel over the bridge into a new world (I won't spoil the preceeding volume by telling you the how we get to this point).
Meanwhile in Oxford, a young man, Will Parry, who cares for his mentally ill mother, is constantly harassed by a group of authorities (tied into, of course, Mrs. Coulter's nasty pals) who want some old folder his father left behind when he disappeared. Will doesn't know what they're talking about, and gets into a scuffle with them, accidentally killing one. Oops. Scared, he flees and goes into hiding in an abandoned building where he sees a cat vanish in midair. He follows, to end up in a place called Cittàgazze. Here, he runs into Lyra, who takes him under her wing on her quest to find out more about the elusive substance Dust. To do so, they travel back to Lyra's world, meet a nun who's studying the stuff, and run across a man who steals the alethiometer from Lyra. The thief bargains with them for something called the Subtle Knife that can cut doors through time and space. If they can get that for him, he'll give back the alethiometer. Will has to bargain it away from a crazy old scholar, and keep it out of Lord Asriel's hands, at the same time, who wants it to help in his quest to confront and defeat the Authority.
It's been a while since I read this book, but that's it, in a very loose nutshell. Why was Pullman's series placed on the banned list? Well, if you remember the controversy surrounding the Golden Compass movie, a few years back, you'll remember church members got all up in arms about Pullman allowing his rebellious little Lyra (not to mention her uncle) to challenge the shall we say Biblical view of things? Whatever you believe on that score, I won't discuss here, but just encourage you to give the series, The Golden Compass, The Subtle Knife, and The Amber Spyglass a try.