Oh!! And before I forget, I'm taking part in the Romance Reviews 3 year Anniversary party today–that is, March 30.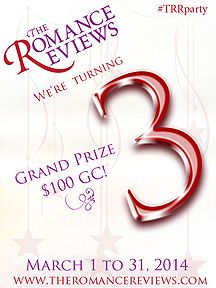 There are more than 450 authors participating with giveaways and the grand prize is  a $100 Gift Certificate! You need to be registered and log in to participate in the giveaways so head on over there now to do that.
And I'm giving away an e-copy of my paranormal romance novel Passion's Sacred Dance to one lucky winner. My Q and A contribution is up here. Good luck!