It's my pleasure to introduce you to a new author who I've met. Jessica Kong is a paranormal author specializing in Science fiction settings. Her latest book, A SEACAT'S LOVE was recently released and is already pulling in praise. I asked Jessica to come speak with my readers today and she graciously took time out of her crazy-busy holiday schedule to do so.
For readers who've never met you can you tell us a little about yourself, so my readers can get to know you?
Jessica Kong: My name is Jessica Kong. My writing career began with the publication of the first two books in the Sea-anan Saga, A Lost Kitten and A Forgotten Kitten. The themes and story lines of my books are based on my real-life experience in an interracial marriage. I also incorporate experiences my triplets went through growing up, like being treated as outsiders by kids who weren't minorities or multiracial, or, now that they're older, being labeled or avoided. My books have a message about not judging others before you get to know them. Also, by making the differences between races more exaggerated, I emphasize how, when you look past the tiny factor of race, we all share the same basic needs, desires, and cultures.
Care to tell us a little about your novel A Seacat's Love?
Jessica: A Seacat's Love is a science-fiction action-romance about a grieving government spy and a humanoid feline scientist who meet in the corridors of a secret laboratory during an attempted escape. The first book in the Oceanan Trilogy, it's an exciting action-adventure with themes of friendship, honor, and trust as well as doing what's right, not being too quick to judge—and intergalactic love.
Rick McCall is a spy who can't forgive himself for making the bad choice that led to the death of his wife and unborn daughter. Leonora is a brilliant scientist and high-ranking Seacat Warrior from the planet Oceana who is captured by the human army, imprisoned, and secretly subjected to experiments by government agents. All it takes is one look into her pale blue eyes, when Leonora collides with him during her attempt at freedom, for Rick's heart to stir and his life to change its course.
When he discovers that Leonora's claims about the government experimentation are true, Rick sees that he must help her and her colleague, Tigif, escape the planet, at great risk to his life and career. As they try to retrieve the aliens' ship while avoiding a massive government dragnet, Tigif's treachery turns out to be more than an obstacle to the growing relationship between these two people of different worlds, and his advances on Leonora become more and more forceful.
Combining the imagination of science fiction, the steamy passion of a romance, the thrills of an action-adventure, and the all-too-human conflict of a drama, A Seacat's Love will appeal to a wide audience of readers. And fans of the Sea-anan Saga will be thrilled to find out how the parents of the multiracial protagonists they've met in books one and two come together.
What inspired the story of A Seacat's Love?
Jessica: Shortly after my triplets were born, I sat in front of my computer hoping to escape into a world that I had complete control of. As I played my video game, I thought of a scene from a black and white romance movie that I once saw. It was a couple laying on the beach in an intimate embrace as the incoming waves washed over them. While I continued to play, I also recalled my favorite books and movies. Even though the stories were great, there was always something I wished the characters had done differently. This led me to ask the 'what if' question. What if the man on the beach was a secret agent and the woman he held in his arms was an alien from another world that he was protecting from his government? What if this alien humanoid evolved from felines? My mind began showing me a storyline heading in a different direction than the movie's. I found it interesting and fun, so I turned off my computer game and opened up a word document and started typing. My new 'escape from a chaotic world' was created.
As I wrote about this blossoming romance, the couple became more real to me. Their story continued to unravel in my head. It began to include family members, best friends, traveling into space, even a timeline. As my triplets grew, I wrote storyline after storyline from that one beach scene, eventually writing my first book ever, "A Seacat's Love", a science fiction romance of how that human spy and alien feline met.
You've self-published several titles, what made you jump into self-publishing and have you been pleased with the results? Does it live up to your expectation?
Jessica: In the beginning, my plan was to go the traditional route. However, I read how more and more authors were leaving the publishing houses and going solo. The higher royalties and total control over book content was definitely a plus for me, and the reason I decided to go at it alone. For the most part, being self-published is great. The only downside for me is the time I have to spend self-promoting. Time spent on promoting is time away from writing. Then again, if you don't promote, you don't sell.
I hear that! Is there anything you haven't yet achieved in your career—or any specific thing you haven't written about yet—that you dream of doing some day?
Jessica: I have yet to reach the top bestseller list, have yet to receive 100 reviews, have yet to win any awards. :) I say I have a lot of growing, learning, and improving to do.
What's on tap next for you? Any new manuscripts in the works, currently?
Jessica: At the present, I am working on the third installment to the Sea-anan Saga called, "A Kitten's Tale". :) This is the story about Mathew McCall, Areo's twin brother. I will show how he is reunited with his childhood friend and relative, Sev, the king of the purebloods. I will also show how he meets Serena, the woman that stirs up deeply suppressed feelings of hatred and betrayal in Mathew towards the race that had tossed his family to the curb like garbage. Their relationship has its ups and downs during their trip to the Sea-anan Empire on board a White Star. I plan to publish this book before next year's end.
Sounds like you are going to be busy in 2015.  Where can people find out more about you and your works?
Jessica: All my books are on sale at the following locations.
Barnes & Noble: http://www.barnesandnoble.com/c/jessica-a-kong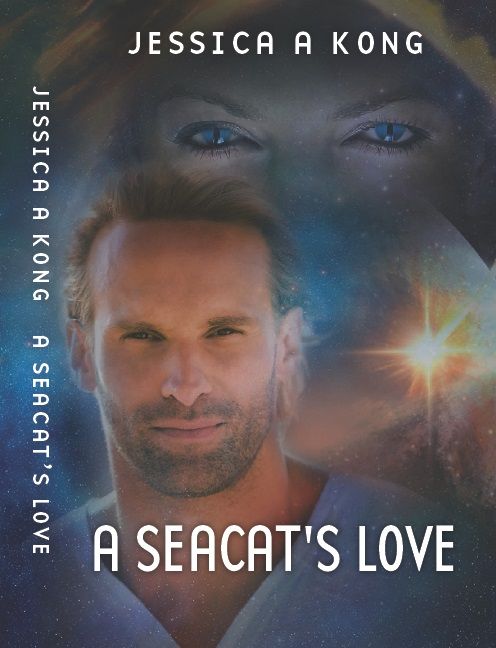 About A Seacat's Love:
In the first book of the Sea-anan Saga, A Lost Kitten, readers meet John McCall. The second book, A Forgotten Kitten, features Areo McCall. Both of these intriguing protagonists are children of an intergalactic marriage. Now, fans of the saga will be thrilled to learn the story of how their parents get together.
A Seacat's Love takes readers back in time to planet Earth, where Rick McCall is committed to living the lonely life of a government spy after losing his wife and unborn daughter due to his own arrogance and poor decisions.
Leonora, one of the top scientists on the planet of Oceana and a high-ranking Seacat Warrior, is a humanoid feline who has come to Earth to study human evolution and find similarities between earthlings and oceanans. But her expedition's camp is stormed by the human army.
Rick and Leonora first encounter each other at a secret military lab during the cat woman's attempt to escape her captors. When she collides with Rick in a corridor, Leonora begs for his help, claiming that the government has been experimenting on her, and one look into the frightened feline's pale-blue eyes is enough to stir the hardened spy's heart. For Leonora, the spark ignites in her chest after Rick dares to defy his government and his own commanding officer to aid her and her colleague Tigif. She recognizes the nobility in this selfless act of helping strangers—aliens from another world, no less!
Now committed to helping Leonora and Tigif remain safely out of the clutches of a wrongful government and find a way back to their home planet, Rick faces many difficult choices—but he doesn't want to repeat the past and make another devastatingly wrong decision. His relationship with Leonora grows in fits and starts, constantly undermined by Tigif's devious plots, and Leonora is threatened by Tigif's increasingly forceful advances. As they avoid a massive government dragnet, fight off dangerous feline fevers, and try to retrieve the aliens' ship, heated emotions of jealousy, distrust, and resentment that arise in the confusion put their very lives in jeopardy.
Author Jessica Kong seamlessly blends multiple themes into her Sea-anan Saga and Oceanan Trilogy books, including loyalty, racism, family, and love. In A Seacat's Love, the theme of multiracial relationships is particularly prominent, where the difference in race between the two protagonists is exaggerated to galactic proportions. As in all of the volumes in the series, this book shows how fundamentally similar we all really are when it comes to our basic needs, desires, and even cultures.
But readers don't have to be fans of the saga to enjoy A Seacat's Love. The novel stands on its own as an exciting and exotic science-fiction action-romance. Though it is an adult-content book, it is written in simple language that is easy to read—and even easier to get caught up in. Its cross appeal to science-fiction enthusiasts, romance lovers, action-adventure fans, and anyone who enjoys exploring human nature through the lens of creative imagination makes it attractive to a wide audience.
Thank you for being with us, Jessica! And best wishes on your series, and for your forthcoming books. We will be looking forward to them! Folks, if you'd like to learn more about Jessica Kong, see her website at:
Facebook: https://www.facebook.com/pages/Jessica-Kong/155150417957328
On Twitter: https://twitter.com/AreoMc
Good reads: http://www.goodreads.com/author/show/6533956.Jessica_Kong
And you can find all her works at the above links. We hope you enjoyed this conversation, have a lovely day, and as ever, keep reading!