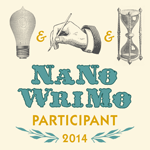 I couldn't fit this in earlier because we've been busy, busy here, but I've successfully passed the 50k word mark in the rough draft of the forthcoming Antique Magic novel, Mourning Dove Locket.
*happy snoopy dance* What's this "win" mean? Nothing, in the scheme of things, it just means I finished yet another …this year. In fact what it really means is I've written over 100,000 words since August! Yes, this August. Which actually means probably closer to 150k (or more) counting Changeling's Crown and a few things you haven't seen yet, for the entire year. No, I'm not kidding in the slightest. The other thing about MDL? The thing that is now the book was written not in 4 weeks, but three. I almost didn't make the official count because there were a few days there when my hands/shoulder hurt so bad I couldn't do much typing at all. This, my children, is the bane of modern writing. (Did you know even Tolkien was incapacitated this way, at times while writing Lord of the Rings?) In fact, there are still scenes in my notebook from those few days that haven't made it into the manuscript file.
Yes, that's right. That makes MDL even longer than its official count of 52k. God knows how long it will be when it's finally finished. I don't recommend this typing pace at all, mind you for a lot of reasons, many of which my friend Jo laid out here. With or without this prompt, I'm a born writer; once I was bitten by the bug, I have very rarely ever stopped. But yeah, I get scattered and sometimes I have to force myself to sit down and finish something rather than work on this shiny new thing here. A long, long time ago, I ran across a Behind the Music about I think it was GooGoo Dolls and the singer said that he had the same trouble with writing his songs. He called it working writer's block.
Once I realized that, I went back to Isaac Asimov's example and decided not to worry about it when I switched projects. It actually helps my plotting to beg off one story to work on another for a while. (Which, to my beta readers and editors, this is why I have a steady stream of manuscripts to send your way). So what does that all mean? It means, sleep means just an annoying break in my writing. So does eating, playing, social media, knitting, and blogging. ;) I'm a writer, I write, therefore I am. I'm not going to stress myself out about getting down a full manuscript tip to toe in one sitting. It doesn't matter when a book is finished, just so long as it is. As for MDL, the first draft is not quite finished. maybe another few weeks of sitting down and typing might be needed.  Right now I'm taking a little break on it to revise and get another ready to go to my editors and beta readers. After that, the edits, revisions, and so forth on MDL will commence, but the book that consumed me and frustrated me this year is almost finito! What are Caitlin and co. getting up to this time? Oh, plenty more mysterious mischief! Stay tuned for more on its emergence from the nest…probably sometime in the coming year, if all goes well (*knocks on wood*).
For those of you that tried, but didn't hit 50k, that's fine too. You have more in your manuscript than you did before–and that too, is an accomplishment. Don't walk away from it now. Keep writing until you hit the end and happy holidays.