For something a little different, today, I have a freebie for you. A little taste of something old(er) and a little darker, for your  Friday. My short story House of Cards is free today. To get it, go here.
For a little about the short story: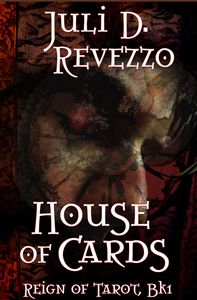 You can't escape Fate….
A young nobleman escapes the Reign of Terror in 18th century France to find himself dragged into an even worse fate–a hellish underworld wherein he is cajoled and put on trial by a demon tribunal for crimes he never committed. Can he answer thwart his fate, one worse than the guillotine?
Reviewers have called it: "a quick, fun, and creepy read. I recommend it!" and "a refreshing take on the typical fantasy hero."~Lizzy's Dark Fiction

Yes it was one of my first (published–and I say that because I've dabbled in it in unpublished works for years) historically set fantasy tales. It later blossomed into a series, and a full book. One that I am revising as we speak. The first round of edits will commence after that. So the follow-up should see release…sometime in the first quarter of next year (I hope. If all goes well). I don't have a share-able synopsis yet, but will in the near future.  For now, the short story HOUSE OF CARDS is free on Amazon. But hurry, because the free day ends tomorrow night! I hope you enjoy it! :) Reviews and of course placement on your Good Reads To Be Read lists are welcome.