This is, technically, my first attempt at My Sexy Saturday. Let's see how this goes.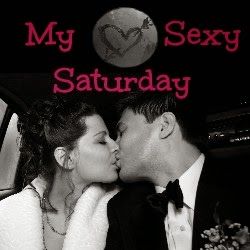 This is from my fantasy romance Changeling's Crown.
Ianthe and Briak's first kiss and first trip into the Dark Grove….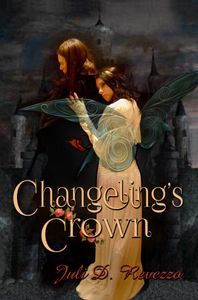 You must see what I am. Don't you see it? To illustrate, she strengthened her magic. Faery dust shimmered pink on the air. He must see it. [Ianthe] spread her arms.
Darkness fell. A crowd's murmur and cheers swamped the restaurant buzz. She gasped and spun.
Ianthe found herself standing on a high balcony overlooking a sea of people. In the distance, the moon hung, bleeding red light across a dark sky. Sparks flew from the torches the people held, their light illuminating twisted, pocked faces.
She gasped. By Thumbelina, what had she done?
She hadn't taken Briak into the dark side of the groves, had she?
She blinked and rubbed her eyes, disbelieving what she saw. One minute, she'd been happily seeing she could still do her job, and now, here she stood overlooking a crowd of freakish goblins. How had this happened?
Shivering with the possibility and what it might mean, she looked to her left, taking Briak in. "What—" She gulped. Well, you're here. Now what? She cleared her throat. "What do you think now?" Take us back, take us back! she ordered herself.
They stayed as if riveted on the balcony.
Briak reached out and swept a lock of hair over her shoulder. "I think you're beautiful." He pulled her into his arms and kissed her. "Just like a faery queen. Any man would be lucky to have you."
If you'd like to read more, Changeling's Crown is available at Amazon, Smashwords, Barnes and Noble, and Createspace.
Synopsis:
When Ianthe began her career as a faery godmother, she stumbled so badly that Snow White will probably never speak to her again. After a long suspension, she's finally been given a chance to redeem herself…but everything on this latest assignment is going wrong.
But why?
Worse, she definitely doesn't need an attractive mortal man distracting her from her duties. Of course, needs and wants are two different things.
Briak has had his eye on Ianthe for a very, very long time, but he's been waiting for just the right moment to make his move. Despite the fact all hell's about to break loose on his watch, he can't resist the opportunity to insert himself into her earthly assignment. Can he convince Ianthe of her true calling and thereby win her heart? Or will his subterfuge ultimately cost him her love?
For more participants in Sexy Saturday see their main site at: http://mysexysaturday.blogspot.com