I have another guest for you today, fantasy author H.L. Burke has stopped by and she's brought dragons! Don't worry, they don't really look hungry. ;) They're just kinda guarding us. So do come sit by the fire, have some coffee, or ale, whatever you like best, while H.L. Burke tells us a little story about the latest in her fantasy series, The Dragon and the Scholar … H.L.  And do check out her giveaway below. Without further ado, H.L, The floor is all yours.
ABOUT H. L. Burke
Born in a small town in north central Oregon, H. L. Burke spent most of her childhood around trees and farm animals and always accompanied by a book. Growing up with epic heroes from Middle Earth and Narnia keeping her company, she also became an incurable romantic.
An addictive personality, she jumped from one fandom to another, being at times completely obsessed with various books, movies, or television series (Lord of the Rings, Star Wars, and Star Trek all took their turns), but she has grown to be what she considers a well-rounded connoisseur of geek culture.
Married to her high school crush who is now a US Marine, she has moved multiple times in her adult life but believes home is wherever her husband, two daughters, and pets are.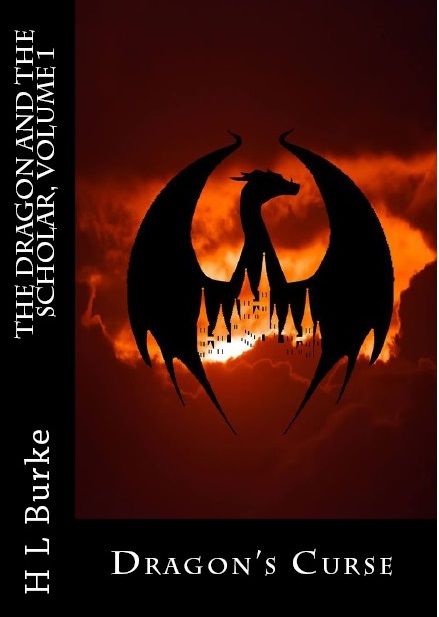 On her first assignment out of the Academy, young healer and scholar, Shannon Macaulay is summoned to the struggling kingdom of Regone to see to the wounds of a young but crippled king. When the unwanted attentions of an aggressive knight and the sudden appearance of a hated dragon turn her world upside down, she decides to take matters into her own hands even if doing so proves dangerous. Finding herself strangely drawn to the company of the dragon, Gnaw, Shannon must force herself out of her safe world of books and botany to come to the aid of her unexpected ally in a strange kingdom, cursed by a fateful encounter with a dragon and the loss of a beloved prince. Can she learn to put aside her fears, and perhaps sacrifice her deepest desires, to help a friend and restore a family?
Dragon's Curse is available on Amazon.com.
H. L. Burke on Amazon:http://www.amazon.com/H.-L.-Burke/e/B00EYQ1HLW/ref=ntt_athr_dp_pel_pop_1
H. L. Burke on Facebook:https://www.facebook.com/hlburkewriter
H. L. Burke on Twitter:https://twitter.com/typativemamacat
H. L. Burke on Goodreads:https://www.goodreads.com/author/show/7230868.H_L_Burke
H. L. Burke's Author Website:http://www.hlburkeauthor.com/
Click here to fill out the Rafflecopter giveaway
More about H.L. Burke
"There is the great lesson of 'Beauty and the Beast,' that a thing must be loved before it is lovable." ~G. K. Chesterton
A long time lover of fairy tales and folk tales, I've always had an affinity for a "fairy tale" romance, but I've also been amused at popular perception of what a fairy tale romance is. Even the Oxford dictionary defines "fairy tale" as "Denoting something regarded as resembling a fairy story in being magical, idealized, or extremely happy: a fairy-tale romance."
This wouldn't be my definition. When someone describes a love story as "fairy tale," I want to know whose toes got cut off, who had to spend a year hopping about the swamp as a frog, and if there were any dragons involved. Usually such inquiries lead to disappointing stories about idyllic dates and rose petal paths and the like. I always wonder, have these people actually read fairy tales?
Fairy tale love can fall into the shallow, cliche of love at first sight and princesses sleeping while they wait for first kisses, but if you dive deeper into the collections (basically past anything that has been adapted by Disney) you'll find so much more.
Love endures much in these stories. People are sent upon impossible tasks. In The Blue Bird the heroine must walk until she has worn out three pairs of metal shoes. Other leading ladies ride upon the wind, discover the Water of Discernment, and wash shirts . . . well, washing shirts may not be thrilling stuff, but it is practical. Also, sometimes heads are cut off.
As a child reading these stories, I never imagined being rescued by a prince charming. Yes, a portion of them feature this, but my favorites involved a lady–princess or peasant–going on quests to find her stolen love. Perhaps she lost him due to her mistakes. Like Psyche she could not resist lighting that forbidden candle. Other times the fault lies with a jealous stepmother or rival who set a trap to turn her love against her (and in her lover for not seeing through it).
So to me a fairy tale romance is one where the lovers face insurmountable odds and defeat them through sheer determination.
Fairy tales also do not always involve the unions of "beautiful people," at least not right away. In fairy tales love conquers physical repulsiveness and focuses on true positives. Princes and princesses deprived of their beauty win their loves because they are kind or brave or clever.
Having the love interest cursed to another form brings the appealing prospect of being loved for a sense of self beyond physicality. The king may merely be a voice in the darkness. A bride may be a clever frog. A girl may turn to a frail old woman with the waning moon. Love truly can make any being beautiful.
And this is why I love fairy tales romances. Because they are anything but "fairy tale."
The dragon, Gnaw, has survived a battle with Sir Roderick. Worried about him, Shannon comes to his cave to see to his wounds.
"Gnaw lay in the dark, trying not to concentrate on the throbbing puncture in his wing. It was a flesh wound and a clean one at that, but it still hurt like the devil and the prospect of infection worried him.
When he heard the approach of another person his heart skipped a beat. He had not the energy for a second battle today and fleeing, in the dark, with a wounded wing, would be difficult. He breathed deeply. The approaching human smelled of crushed herbs, tea leaves, and books. He sighed in relief.
"Gnaw! Gnaw!" Shannon called out. He managed enough of a flame to light the pile of branches and illuminate the cavern again. She rushed to his side. "Are you all right?" she stammered.
"Aye, no thanks to that rabid lap dog you set on me," he snorted. "My advice, put that one down."
"I didn't set him on you," she sniffed.
"Well, he seemed convinced you wanted him to do it," he said. "Of course, he was obviously insane. He kept coming after me when most men would've been lying on the ground in tears or running for the hills."
"And you still let him live," she smiled at him.
"I did? That was careless of me. I'll be more thorough next time." He lay his head back down.
"Thank you; he's too much of an idiot to see that you had mercy on him, but for myself, I thank you. If you had killed him he would have died because of me, and I don't know if I could sleep at night with that on my conscience."
"You wouldn't be responsible for his idiocy."
"Are you hurt?" she pressed.
"No, well, not much."
"May I see?"
He unfurled his wing towards her. She winced.
"I've never bandaged a wound like this. I mean, the wound isn't unusual but . . ."
"It's on a dragon?" he pointed out.
"Well, in a wing, I was thinking. During my training, I treated an injured bird, but the structure was a little different and a lot smaller. I think I can figure out something, however. Hold still, please."
He winced a little bit but didn't make a fuss as she cleaned and bandaged his wound.
"All done," she said. "I'm so sorry you were hurt."
"I've had worse." He carefully folded his wing back against his body and lay still. He glanced out of the cave. "It is well after dark. You trip over your own feet enough in the day time. It's a miracle you made it up here without breaking your neck."
She grimaced.
"Well, I was worried about you, and I couldn't exactly ask Roderick if you were all right. Still, I hope you are fine with me staying the night. I don't want to make the descent until sunrise."
"Of course. I can fly you down at dawn," he said.
"Are you certain that is a good idea?" She caressed his wounded wing.
"I'm hardly crippled," he scowled. "It will be fine."
She nodded and rubbed him behind the ears. His ego bristled. He wasn't a lap dog or a barn cat. What did she think she was doing? Oh, that felt good.
He shut his eyes with a contented moan as she continued to rub the back of his head and neck.
"I am not sure if you are a witch or an angel," he murmured.
"Semantics," she teased.
He laughed.
He let himself doze off, only marginally aware of what was going on around him. After a while he realized she had stopped her massage and opened his eyes to find her asleep, her head, arm, and shoulder draped over his neck. He curled his head back again to form a cradle for her body and listened to her breathe.
Such a pretty little thing. Would it be wrong to keep her?
Sounds intriguing, doesn't it folks? Thank you for stopping by, H.L.! Good luck with Dragon's Curse. Folks, if you'd like to get a copy, again, Dragon's Curse is available on Amazon.com.