I am pleased, today, to have paranormal romance author Genevieve Jack with us. I've thoroughly enjoyed her previous novel, QUEEN OF THE HILL, and am looking forward to Mother May I. I was lucky to be able to corner the Queen of the Hill herself for a little interview. I hope you will enjoy it. I hope to have a review of QUEEN OF THE HILL up for your reading pleasure soon, as well as a little bit more about the series itself.  For now, here's a bit about Genevieve's forthcoming novel, MOTHER MAY I.
  Grateful, and Genevieve, thank you both for joining us today. Make yourselves at home. Now then, Grateful, I must say you intrigue me.  The whole business of being a witch and a Hecate seems both thrilling, and a little overwhelming! What can you tell our readers who may not understand what goes into being a Hecate?
Grateful Knight: A Hecate is a type of witch, also called a sorceress of the dead. My job is to police the supernatural element in my ward. All Hecates are women: half goddess, half human. We draw our power from the dead, so you usually find us living near a cemetery. Interference with humans by supernatural beings without consent is strictly forbidden and could land the perpetrator in the local hellmouth via my judgment. I also sort the rare human soul who becomes trapped for some reason as a ghost in the earthly plane. It happens sometimes if a person's soul has unfinished business or has lived a life equal parts good and evil.
What does being a caretaker entail, if you can speak for Rick? How does one become one?
Grateful Knight: When a Hecate comes into her power, she is immortal. Most witches will chose to stay immortal, but not me. I fell in love. Real love. I loved someone so much that I gave him my immortality. If you think of immortality as a thing, like a glowing red heart, I put that heart inside of my caretaker. That spell made him immortal, but it also bound him to me. It is my immortality inside of him. He is the vessel of my eternal soul. As long as we are together and I partake of his blood, I'm immortal too. But I can be killed. Have been killed. When that happens, I am reincarnated. Once I'm old enough, it's my caretaker's job to find me and to give me my power back by reconnecting me to the part of my soul he keeps for me.
Grateful, if you've known Rick so long, why hasn't he taught you any Spanish?
Grateful Knight: He probably did in a previous life, but I've only known him a short time in this life. Between trying to survive the latest supernatural attack and working as a nurse in the local hospital, I haven't had much time for Spanish lessons. Besides, Rick has lived in New Hampshire for centuries. He barely has an accent anymore and rarely speaks Spanish unless he is reminiscing or feeling emotional.
I see. Are there any particular supernatural creatures you haven't encountered in your world that you'd like to meet?
Grateful Knight: It would be cool to meet an angel, but I've been told heavenly creatures and earthly supernaturals like me usually don't mix.
That's too bad. It might help to have one on your side from time to time. And for a silly one, in light of your wedding preparations, what's your favorite kind of cake? ;) Genevieve, you can answer that one too, if you'd like.
Grateful: My favorite cake is devil's food with chocolate icing. Dark chocolate icing. A multitier wedding cake with red roses on alternating layers would be gorgeous. Maybe his and hers sugar skulls on top. Rick would love that.
Jack: I like angel food with whipped cream and strawberries. Hold the sugar skulls. Both sound heavenly! You gals are making me hungry. ;)
Genevieve, I'm very excited to have you and Grateful with us today. Thanks so much for your time. I've enjoyed QUEEN OF THE HILL and look forward to your new  release, MOTHER MAY I.  Can you give us a hint (spoiler free, or not, as you please) as to what Grateful and Rick might be facing next?
Genevieve Jack: In Mother May I, Grateful has to stand up to her goddess mother in hopes of finding a spell that will restore Rick from the damage Tabetha caused. A new supernatural threat wants Grateful dead, and she becomes increasingly convinced that her mother is behind the attacks. Grateful must build alliances with other supernatural creatures in order to stay alive while she goes about executing a spell that could save both her and Rick, while setting things right with the goddess.
Sounds thrilling! I can't wait to get to it. Readers, here's a little more to tempt you about MOTHER MAY I.
Book Description:
Grateful Knight is one stressed out witch. Not only has she failed to restore her caretaker, Rick, from an evil witch's mind-control spell, but the loss he endured extends well beyond his memory. To make matters worse, compensating for his absence could cost her the job she loves and the strength she needs. When a new supernatural threat leaves Grateful for dead, a vampire ally saves her life but at a price. Her assailant's calling card makes it clear she's marked for death, possibly by her goddess mother. With the help of her half-sister Polina, can Grateful gain the power she needs to win Rick back and beat the goddess at her own game?
Available at Amazon, iBooks, Kobo, Smashwords
Tour giveaway Genevieve is giving away 1prize pack consisting of: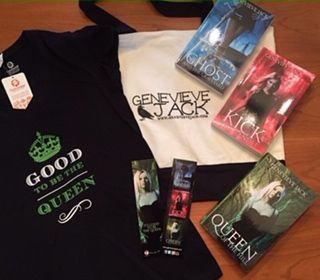 Genevieve Jack Book Bag Signed set of paperbacks, Books 1-3 only;
It's Good to be the Queen T-shirt (choice of medium or large only);
$25 iTunes or Amazon gift card (Winner's Choice) Open to US Shipping
You an enter by filling out the Rafflecopter here: Rafflecopter giveaway
About the Author Genevieve Jack is a former registered nurse turned author of weird, witty, and wicked-hot paranormal romance. She grew up in a suburb of Chicago and attended a high school rumored to be haunted. There she developed a love for old cemeteries and ghost tours. Today, she specializes in original, cross-genre stories with surprising twists. She lives in Illinois with her husband, two children, and a  Brittany spaniel named Riptide, who holds down her feet while she writes.
Connect with Genevieve here:
https://twitter.com/Genevieve_Jack
https://www.facebook.com/AuthorGenevieveJack
http://bit.ly/KnowJackNews