I have another guest for you today, this one an up and coming Science fiction/ fantasy author I met via the Bewitching Book Tours, Ms. Nicole Delcroix. Grab a copy of coffee or your favorite cup of tea and get ready to take a few tips about one of my favorite subjects: Research. :) Nicole, take it away!
Research… It's Not Just for Journalists Anymore!
By Nicole Delacroix
Say the word research and most writers' eyes will glaze over like a box of Krispy Kreme doughnuts, but the truth is every writer has to do some sort of research to get their story off the ground. Done well, research can help make a writer's job easier, help the writer broaden the scope of their writing and make a writer more knowledgeable. While most writers will relegate research to the realm of academia, every writer can benefit from well done research.
Research is For Journalists and Academia
Professional writing is the realm of journalists or news organizations, blogs and magazines, and requires research to give both the writing and the writer credibility. Articles must be well researched to spark interest in the subject and properly target the intended reader. Professional writing is directed at a particular demographic and the writer must know their audience to keep them engaged. There is nothing more destructive to a writing career than misquotes or sloppy research. Know your subject and know it well and your reader will rave about your subject matter. But mislead or misquote and you'll never earn the readers trust back and you'll be demoted to gossip mags and labeled a hack writer. Readers of professional writing are a fastidious group; they won't trust easily and won't forgive a breach of that trust.
Fiction Writing Doesn't Need Research… Does It?
Research is equally as important in fiction writing as it is for professional or academic writing. An author who wants to write better fiction can benefit from a little market research. Knowing what the audience looks for in a story or in a novel can help an author write fiction that will be well read. Similar techniques of market research for professional writing can be used for fiction writing.
Also, researching locations will help an author chose appropriate settings for his or her fiction and describe them well. A little research helps an author keep historical or current facts within the writing correct. Researching for fiction writing can also be as simple as "people watching" for inspiration and character development ideas. Studying the actions and attitudes of real people helps with creating interesting characters.
In closing, research is an invaluable tool for any writer; it helps the writing remain informed, authoritative and credible. Moreover, it helps a writer reach more readers with better writing. You simply wouldn't attempt to write a non-fiction piece if you knew nothing about the subject and expect it to come out well written; fiction should be approached in the same manner.
Your world should be flawless; you need specific knowledge and facts to ensure your concepts work. Remember, research isn't about you; it's for your readers. Good research can sweep your readers up into a more wonderful, strange, terrifying and real new world or it can make them question your dedication to your craft. Build an epic world for your readers and they will flock to your stories. It boils down to credibility and realism. In a fictional world you need even more research, how else can your reader suspend their disbelief?
Thank you for your informative post, Nicole. I do agree–but then, I am a geeky research nerd fan of researching, myself. Folks if you'd like to check out  her work, Nicole's novel,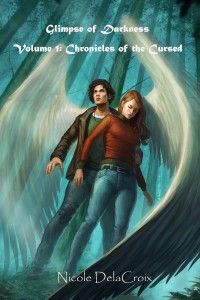 Synopsis:
Charlene (Charlie) Bennett is a simple waitress in the wilds of Hyder, Alaska whose father has just gone missing. Isolated and alone, her fathers' disappearance is nothing new to her, but this time things are a little different.
For starters, there is a handsome stranger, Daniel that has come to town and while Charlie has never taken more than a passing interest in strangers, she has an immediate and intense attraction to this one. Secondly, she's soon to find out that this stranger isn't what he appears. He's about to throw Charlie's entire world into a major upheaval.
Now Charlie has to decide if she believes this strangers' incredible story and follow Daniel or if she wants to stay in the only home she's ever known for an uncertain future and an absentee father. As she comes to terms with what Daniel shows her, she realizes that he's the only true thing in her life and leaves everything she knows behind to follow the handsome stranger.
Glimpse of Darkness Available now at Amazon and in paperback from Createspace.
Nicole is also doing a giveaway for her tour.
 Up for grabs are:
5 sets of signed paperback copies with beaded bookmarks
5 beaded bookmarks
Open to US Shipping
Please fill out the Rafflecopter form here.