I feel like it's been a long time since I've done this, and then, in others, that I just put up a Sneak Peek Sunday post. Checking the calender though that isn't so. I'm just still in vacation fog. So, here we are for another round. :) Continuing from where we left off in CHANGELING'S CROWN last time around. Ianthe has a moment where she just may lose it…Always makes her wonder why when she feels like that. But what happens to push her to the brink? Let's see.
(Ianthe)  tried not to snarl back, but it was hard. She tapped a finger to her lips. "Didn't I hear you just came back from Desire Island? How'd that go?"
His mud brown eyes narrowed. "You heard wrong. It was Devil's Island."
"Ah." She nodded. "My mistake."
"Yes, you make many." He turned on his heel. "So, I see you have more studying to do. Good luck with it, Hypericum. You'll need it."
Ianthe's fists clenched and she wanted to stamp her foot against the citrine floor tiles, but the sound would reverberate through them as if she'd shattered a glass wall and tell the whole kingdom how angry she was. The nerve of Techsmauch! He was such an ass! Why did he constantly make her life a living hell?
Why and what will he do to her next? If you'd like to find out, CHANGELING'S CROWN is available at Amazon, Barnes and Noble, Smashwords, and Createspace.
CHANGELING'S CROWN
GENRE: New Adult Paranormal Romance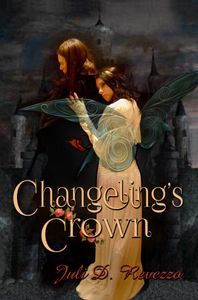 Synopsis:
 When Ianthe began her career as a faery godmother, she stumbled so badly that Snow White will probably never speak to her again. After a long suspension, she's finally been given a chance to redeem herself…but everything on this latest assignment is going wrong.
But why?
Worse, she definitely doesn't need an attractive mortal man distracting her from her duties. Of course, needs and wants are two different things.
Briak has had his eye on Ianthe for a very, very long time, but he's been waiting for just the right moment to make his move. Despite the fact all hell's about to break loose on his watch, he can't resist the opportunity to insert himself into her earthly assignment. Can he convince Ianthe of her true calling and thereby win her heart? Or will his subterfuge ultimately cost him her love?
If you'd like to add it to your good reads to be read lists, you can do so here.
I hope you will enjoy it!