Sort of ….Actually, they're just in my new book.
Yep. That's right. Finally, a new book. (Well, it's finally for me, because I've been working up the silly thing since…I want to say mid-2012 but can't find the date in my notes so don't quote me on that exact date!). Geeze, another you say? Yes, well…I write, more than anything, I write. Some people play golf or like to go fishing, spin yarn, or love cooking, I write.  Anyway, this piece is entitled:
Changeling's Crown:
genre: upper YA/New Adult Paranormal sweet paranormal romance
(Yep, slightly different genre)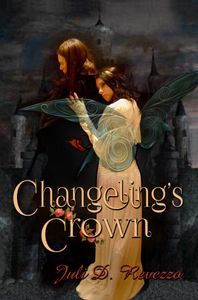 Blurb:
When Ianthe began her career as a faery godmother, she stumbled so badly that Snow White will probably never speak to her again. After a long suspension, she's finally been given a chance to redeem herself…but everything on this latest assignment is going wrong.
But why?
Worse, she definitely doesn't need an attractive mortal man distracting her from her duties. Of course, needs and wants are two different things.
Briak has had his eye on Ianthe for a very, very long time, but he's been waiting for just the right moment to make his move. Despite the fact all hell's about to break loose on his watch, he can't resist the opportunity to insert himself into her earthly assignment. Can he convince Ianthe of her true calling and thereby win her heart? Or will his subterfuge ultimately cost him her love?
I'm totally in love with this cover by Boulevard Photografica. and the gorgeous photo is by a photographer named  Nobledeath (aka Reiner). It's beautiful, isn't it?
The book trailer is here:
You can add it to your Good Reads To Be Read lists
here
.
Changeling's Crown is available for Kindle and currently $.99 at Amazon and the paperback is processing….I hope it will be live by Monday. *fingers crossed*
The story is a little different than what you might be used to from me; it's not quite as dark as Caitlin's books (or Passion's Sacred Dance for that matter). I channeled (or tried) my friend S.G. Rogers/Meg Cabot's guiding muses for this one and while they and my usual one duked it out. All's well. We eventually got together for dinner and hatched this screwy story. ;) I hope it gives you a chuckle here or there. I couldn't help it Ianthe got in my head and I couldn't stop her chattering until the book was done. And her nemesis just lends this different air to it that made me have a lot of fun with the story. I hope y'all will like it too.