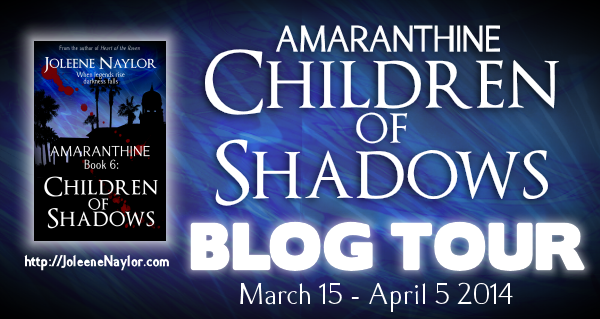 Joleene is an independent soul and author who has created a unique paranormal world in her Children of Shadows series. She blogs at Joleenenaylor.com, is a regular contributor to the Self Pubbed Authors blog (http://selfpubauthors.com) ,and in the hours between creates cover art for other authors (at http://coverart.joleenenaylor.com/)  and still finds time to indulge in photography.
Hi, Joleene, thanks for being here. Why don't get a little coffee, and meanwhile, tell us a little about yourself.
Joleene Naylor: Ah! It's that moment when I'm supposed to make myself seem witty and interesting, but sadly I'm just boring. As for witty… well, I try, but you know how it is. People tend to assume I'm a dark, depressing person because my books are dark, but I'm actually pretty cheerful. When asked, "Is the glass half empty, or half full", my response is, "Yay! We have a glass!"
That's a great outlook to have in this tough business. So tell us, who or what inspired the Children of Shadows—or for those just starting the series, Kat and Jorick, and their story?
Joleene: Anime always inspires me. In fact I'd love to see the series turned into one. My main goal has always been to be different, and I think from some of the comments and reviews I've received that I've been successful. There's romance, yes, but there's a lot of blood, too. There aren't any werewolves, or shifters involved, just good old fashioned vampires. As for Children of Shadows, it picks up a week after Heart of the Raven ends and is the middle of the three part Heart of the Raven story arc. That means there are a few unanswered questions in this one, and it's also the first in the series to end with a sort of cliff hanger.
I read somewhere that you're a fantasy reader at heart, so, with such a glut of Vampire novels on the market, why write them?
Joleene: I actually wrote Shades of Gray, the first in the series, in 2005, before Twilight was mainstream and the giant glut had hit. At the time, I'd read several vampire books back-to-back where the human woman was supposedly a humdrum lady until she met the vampires – whom she automatically accepted – and then she immediately became a kick-ass fighter. Every time I thought, "This is ridiculous", so when NaNoWriMo rolled around I decided to write a story where a more average woman gets tangled up with them. She doesn't believe it right away, and she certainly isn't a natural born fighter (though she's been improving as the series has progressed). She had a job that she lost, she has a mother who, when she disappeared, reported her missing. It's still not 100% realistic – there are vampires, after all – but I think it's closer than a lot of the books out there. And since I'm a fantasy fan, as the series goes it picks up more of a fantasy-style format.
Why do you think readers keep returning to the subject?
Joleene: Vampires represent so many things, especially if you add romance. They're the ultimate lovers (hundreds of years of experience, and then add the orgasm inducing vampire bite), they're the ultimate hero (generally they're killing or fighting someone, usually to save their lady) and they're the ultimate dangerous bad boy (they could actually kill you while drinking from you!). Even if you take away the romance, they give writers and readers a lot of flexibility. They can be old fashioned in modern circumstances, which is always good for a laugh, or they can be ultra-modern. You can write in any kind of story: sad, happy, contemporary, historical, in any era, and so long as they have fangs it falls under the paranormal umbrella, so as a writer you don't have to break your genre. Then you can give them super powers and cool nicknames like Hand of Death. It doesn't get much better.
True. What do you hope readers will take away from your books?
Joleene: The Amaranthine books aren't life changing experiences, though there's some wisdom poked among the pages. Mostly I just want my readers to be entertained, and it would be awesome if they liked the characters.
You decided to indie publish this series. As many writers are leaning towards that option these days, what do you think are the best, and worst, things about it? What should prudent, budding authors be aware of when considering what to do with their work?
Joleene: The best and worst thing is that it's ALL up to you. This is the best because you have control, but the worst because there's no one else to blame. I've read blogs from traditional authors blaming their bad covers, bad editing, forced plot changes, etc etc. on their publisher, but we don't have that luxury. We take the blame for everything. Even if we hire it out there's still an expectation that we should have checked it first and it's still our fault.
Something writers should be realistic about are that sales equal work. There are amazing success stories, but the average indie isn't one of them. I know hundreds of authors, and most sell less than a hundred of copies. Is it because their books are bad? Or because they don't advertise? Or maybe they just haven't gotten lucky? I don't know, but I do know that advertising is very important. The average reader isn't going to stumble on your book accidentally. Especially not when there are so many free titles now. KDP Select has really toughened up the market because why should someone pay for a book when it may be free later, or they can get a book of equal value for free?
What's next for you now that Children of Shadows is released?
Joleene: I've actually started the next book, Clash of Legends, which will wrap up the current story arc and if I'm lucky start the next one. I am also working on a second short story collection and Tales of the Executioners (Aine is currently a free read on Smashwords, Barnes & Noble, etc.). I'd like to do an Amaranthine Encyclopedia, but I don't know if or when I'll have time for that.
Lastly, a fun question, if you could meet any famous vampire, who would it be and what would you ask him (or her)?
Joleene: Louis de Pointe du Lac, from Interview with a Vampire. I'd ask him, "Why are you still whining after all these years?" Ha ha! Okay, a little joke there. Actually I think the brides of Dracula would be interesting. I mean, what's their story? How did they end up there? Did he kidnap them? I always got that feeling, and I imagine their lives are actually pretty tragic. And that should make for an excellent story.
*lol* Who wouldn't want to ask Louis that? Just get a hold of yourself, man! *giggles* Thanks again for being with us today, Joleene and good luck with Children of Shadows and all you do! Folks before you head off, don't forget there's a contest involved. Just fill out the form below and good luck!
Children of Shadows Release Tour giveaway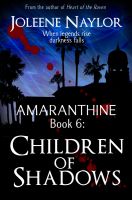 You can fill out the form for the giveaway here:
Children of Shadows Release Tour giveaway
Excerpt:
It was nearly three when Jorick and Katelina went to the restaurant. Wolfe and Sadihra sat at a table in one of the smaller rooms. A handful of tables were scattered around them, but most were empty. Though Katelina couldn't say why, she got the impression it was some kind of VIP room.
Sadihra greeted them, and Wolfe gave them stony nods. A waiter took their order; blood for the vampires and a pasta dish for Katelina. Once he'd gone, Wolfe turned to Jorick. "The Höher Rat spoke to the prisoners we brought with us."
"And?" Jorick asked.
"Their evidence held true. They would give very little information about their so-called order, except to say its function is to destroy the Children of Shadows, which they claim is not defunct as we all believe, but instead has been secretly thriving."
"The last of that cult died when I was still a fledgling," Jorick said. "Malick helped hunt Memnon himself. I watched him burn, and I watched his followers burn." He paused a moment then added with no emotion, "I helped to light the fires for some."
Wolfe nodded. "I was there, too, if you'll remember. They weren't all they were rumored to be, just a squabbling bunch of immortals scrabbling for power."
"There was a lot of that back then," Jorick said.
"Yes, before the Kugsankal stamped out the last of it and organized the new system. With the recent upheavals, I worry those times may come again. If the group really has resurfaced then it's no wonder. Malick may have set a dangerous precedent."
The waiter interrupted with the food, and it was only after the glasses of blood were poured from a large crystal decanter that the conversation resumed.
"As I was saying, the research department found mention of The Black Vigil in a collection of letters from the ancient materials department. They were a group from Moldavia, led by a Dumitru, who organized them in the fourteenth century, initially to fight another 'evil' master. Eventually they evolved as enemies of The Children of Shadow, though it doesn't say why. There was some hint that they had a change of leadership, but no specific name is given. They disappeared from records in the sixteenth century, presumably wiped out by the Children, and no one has seen or heard of them since."
"I see." Jorick sipped from his glass. "So they are both dead orders, so to speak."
"Or un-dead," Katelina muttered to herself.
Bio: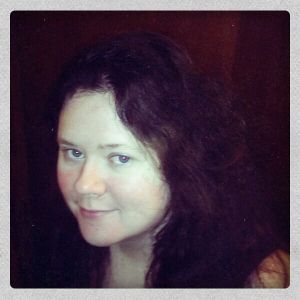 Joleene Naylor is the author of Amaranthine, a paranormal series where vampires live in the shadows and don't sparkle. In her spare time she is a freelance artist, book cover designer and photographer. You can find information on all of her pursuits at her website http://JoleeneNaylor.com . She also maintains blogs full of odd ramblings and hopes to win the lottery. Until she does, she and her husband live near Bolivar Missouri with their miniature zoo and a couch coated in cat fur.
Blurb:
The sixth installment of the Amaranthine series pulsates with the dark blood of vampire lore.
The Children of Shadows, a vampire cult not seen for hundreds of years, resurfaces to wage war on the vampire guilds. Led by a familiar face, the cult wreaks havoc while Katelina and Jorick are trapped in Munich. Ume, a mysterious vampiress, claims to know Verchiel and offers the help of her secret organization. But can they trust her?
As mysteries are solved, new ones appear. Why have the Children of Shadows returned, and is it really a former ally that leads them, or a look-alike?
Legends rise and secrets are revealed in a world where vampires walk, drenched in blood and shadows.
Children of Shadows is available at:
Paperback – https://www.createspace.com/4668712
Amazon Kindle- http://www.amazon.com/dp/B00IZ6OX18
B&N NOOKbook – http://www.barnesandnoble.com/w/children-of-shadows-joleene-naylor/1118473860?ean=2940045616157
Smashwords – http://www.smashwords.com/books/view/403239
itunes – https://itunes.apple.com/us/book/children-of-shadows/id811435603?mt=11&uo=4
You can find Joleene at the following:
website- http://JoleeneNaylor.com
author blog: http://joleenenaylor.wordpress.com/
FB author page: https://www.facebook.com/joleenenaylorbooks
twitter http://twitter.com/joleene_naylor
good reads: http://www.goodreads.com/author/show/3165393.Joleene_Naylor
facebook profile – http://facebook.com/joleene.naylor
pinterest – http://www.pinterest.com/joleenenaylor/boards/