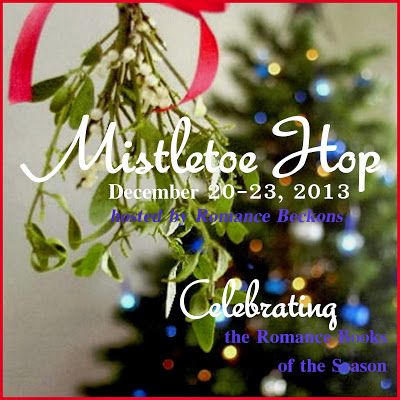 Welcome to my stop on the Mistletoe blog hop.
Christmas is a time of giving, of love and light….for most people. It's also a time for spirits. Our ancient ancestors saw this time of year as the dark time. They worried if the life giving sun would return with the spring. It sounds silly to us now, but throughout the ages, that feeling of dread has accompanied the winter season. Think of Dickens' Christmas Carol. It's not happiness and love that visits Scrooge at Christmas, it is spirits of doom and gloom.
So, if you think about it, facing the worst at this time of year, and triumphing over it, isn't exactly a new or radical idea. Lest you think I'm all about doom and gloom (*rubs hands evilly*) in the darkness, we can look forward with hope.  There's always an answer to the puzzle and love warms up the darkest of nights. So when I wrote my new Christmas themed paranormal romantic suspense novella, MURDER UPON A MIDNIGHT CLEAR, I wove in that hope and love element into the puzzle that faces my heroine and hero.
'Tis the season … for death.
Murder reminds Detective Helene Collias of Holly PD that crime doesn't respect holidays. And the last victim she ever expected to find in her case files is the sister of her old flame, Sean Grant. Ordinarily, Helene's psychic gifts give her an edge but this time, that gift has short-circuited. Could her lingering attraction to Sean be blurring her abilities, or is something more sinister at work?
Excerpt:
Helene thanked the postmaster for his assistance and stepped out of his office, taking in the crowd filling the lobby. The last minute holiday mailing rush had just begun. She swore under her breath. Forgot my cards.
Do them tonight. Before Rachel shoots me! At least ones for her and Charlotte. She could easily hand-deliver them in the morning.
She pulled her coat tight against a blast of cold breeze, sliding her notepad into her pocket, heading toward the exit, eying the dusting of snow on the ground. She blew out a deep breath. She didn't expect much from this inquiry. Who would say "Yes, my nephew said he murdered someone", after all?
A glance out of the corner of her eye brought her up short. Around the plastic Christmas bells and decorations painted on the post office windows, she saw Sean and his uncle Charlie approaching the curb. Sean's gloved fingers shuffled through a selection of brightly colored envelopes. She pushed the door open. "Well, what are you doing here, stranger?"
His gray coat swirled around his thighs as he stopped in his tracks. A little smile curved his enticing lips. "Hey."
Charlie said, "Hello." And touched Sean's sleeve. "I'll take those if you want to talk."
Sean nodded and handed over the cards; Helene closed the distance between them. "How are you?"
Sean shrugged one shoulder. "You know."
Sean watched his uncle until the elder man disappeared through the post office's glass doors. Sean let out a breath and drooped. "Truth to tell? Terrible."
Her heart clenched for him. She reached out a hand, running it down his arm, feeling the heat and strong cut of his bicep. "I'm sorry."
He shrugged.
"What are you doing here, then?"
"Must've been driving my aunt crazy." He paused, scrubbing a hand over his tired eyes. "She forced me out of the house."
"Oh, now that ain't right. How could she?"
He waved the window where they could see Charlie waiting in line with about sixteen other customers, arms full of Christmas packages wrapped in various brown and Christmas-colored mailing wrapping. "Bribed me with Christmas cheer."
Helene snorted. "Ah, Christmas cards. Remind me to do mine."
"I'm not on the list, am I?"
She placed a hand to her chin, studying him, one eye shut playfully. "I don't know. The naughty or nice list?"
"Which list would you put me on?"
The corner of her mouth hitched in a wicked smile. "After the other day, you have to ask?"
The darkness in his eyes melted away, and naked longing shone. "That's the best one, in my opinion. Helene—"
Tremulous sparks followed in the wake of his scrutiny. She could see them highlighted against his coat. She stepped closer as he hesitated. "Yes? What's on your mind?"
"You." He trailed his fingers over her cheek; spring's warmth seemed to follow where he touched. "I can't stop thinking about you." In that moment, her heart seized with longing, tilting her world off its axis. She reminded her knees to stay locked. "When can I see you again?"
When can he? You'll have to read to find out! If you'd like to,
Murder Upon a Midnight Clear
is available at
Amazon
, and Createspace in
paperback
.
Don't forget about the hop-wide giveaway:

Powered by Linky Tools
Click here to enter your link and view this Linky Tools list…
What I'd like you to do to win a download of my story:
1)Leave me a comment  2) Please  subscribe to my mailing list above, if you haven't (tell me in the comment you've subscribed). 3) When you read the book, please review it on
Good Reads
, Amazon, and if you have a blog, a review there would be appreciated!
:)
Also, please visit the blog hop
here
, to check out more great authors participating in the Mistletoe Hop.