I recently met author Linda Hamonou during the Indie Block Party and I found her to be very interest. She writes fantasy when she's not working out the secrets of the universe. ;) I found that intriguing and so I thought I'd ask her to come chat with us for a little bit. Please welcome Linda to our little home!
Thanks for being here, Linda, why don't you start by telling my readers a little about yourself?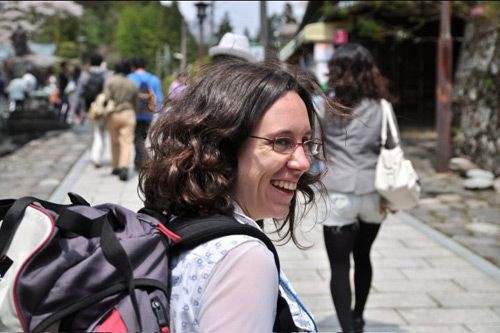 Linda: Hamonou: Hello Juli, I'm happy to be here today. Something about me… hum… I travel a lot, and I write a lot too. I like to discover and learn new things all the time.
We love discovering new things around here too. I think you'll fit in well with us! ;) What can you share about your Demon Soul books with our readers who may not be familiar with it?
Linda: Demon Soul started from a love story, I had an idea about a love between a human and a demon turning bad when the demons decided to still the boy's soul. Brownie, the human girl is then left alone to fight them as Yue's memory is vanishing.
From there the story shift around Brownie's life and how she is going to overcome the loss of her love, or trying to find it back. She becomes a witch and with magic, anything can happen even the unpredictable.
By what authors would you say you are influenced?
Linda: I read a lot and I like old book the best. I would say I'm influenced by Jane Austen and Frank Herbert the most. Even if I write fantasy, I want to show a possibility for the events to happen, a bit of mixing magic and science and of course never forget love.
A good mixture for a story, to be sure! :) Any interesting stories to share about your road to publication?
Linda: Not really. I discovered Createspace through NaNoWriMo and jumped on the idea that I could be doing everything myself and still have people I didn't know reading my stories. That's about it. When you write a lot, it's difficult for your friends to keep on reading your novels. They just get tired of you, lol.
A writer must keep writing! I know what you mean. What's next for you now that Demon and Fairy is out?
Linda: Well I have three finished drafts that need to be edited and I'm still working on my unfinished vampire story. And of course I need to write the sequel of Demon World (which is the sequel of Demon and Fairy). It's too bad that I can write faster than I edit. Too many ideas, too little time.
If you weren't a writer, what career might you have pursued instead?
Linda: That's a funny question. Officially I'm not a writer, I'm a physicist, I have a PhD in atomic and molecular physics and I do research on interaction laser-molecule at the university. I like the possibility of having two carrier at the same time but they are both really time consuming and it takes a lot of planning to get things done.
Oh, cool! What kind of books do you like to read for pleasure?
Linda: I read almost anything my hands can get on but mostly detective stories, love stories and fantasy. I'm afraid about science fiction because so many people get the science wrong and that stops me from fully enjoying the book. I like to read in foreign languages, I haven't touched a French book in a while but I have the sequel of phenix waiting for me. I'm also reading crazy physicist papers and find them a lot of fun.
Do you have any advice for aspiring authors?
Linda: I think the only thing is "If you want to do it, just do it". We are generally the only reason stopping ourselves from doing great things.
Is there anything else you'd like to share with our readers? Where can my readers find out more about you and your works?
Linda: All my books first drafts are on my blog so anyone can stop by and read them. My book are also at disposal for review, I give free pdf in exchange for reviews. You just have to message me and tell me which book you want to read. I recommend to read them in order even though they can stand alone.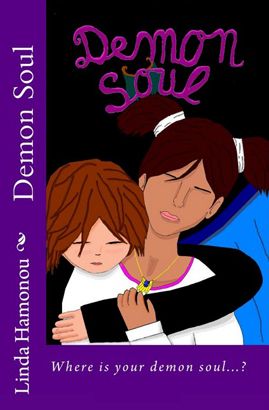 Demon Soul:
She had seen his soul, a purple light, dancing, vacillating in his grey eyes and she had felt in love with him. They would have gone anywhere for each other, there seemed to be no end to their happiness. But now it was gone, his body had become an empty moving shell and he was forgetting about her, about himself, about everything….
Desperate, crying for help, Brownie can only let him walk away under the rain which can't hide her tears. But there is more to her than that.
She is determined to bring him back and she would go to hell for it. Diving in the darkness of demonic Magick, she will following the only path she knows to help him get better. She will steal his soul back from the demons…
But there are things she wasn't prepare to answer to… How do you raise a baby demon? Especially when this one seems to be growing unbelievably fast.
Available at:
http://www.amazon.com/Demon-Soul-ebook/dp/B00BRJQXHW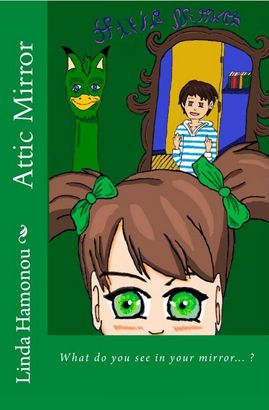 Attic Mirror:
Hitomi pushes one more door. This is the part of the attic where nobody ever comes. She feels the cold air coming out of the dark room. It smells like dust and old things. She pushes the door a little more and enters…
Her curiosity becomes slowly stronger than her fear of the darkness and she starts to explore. She finally starts to enjoy herself, uncovers a strange looking mirror and puts an old dress in front of herself.
"Really, really nice", she heard a voice say.
She startles, turns around in the room, she is all alone…
Then she looks in the mirror….
Attic Mirror is available at: http://www.amazon.com/Attic-Mirror-Linda-Hamonou/dp/1463670737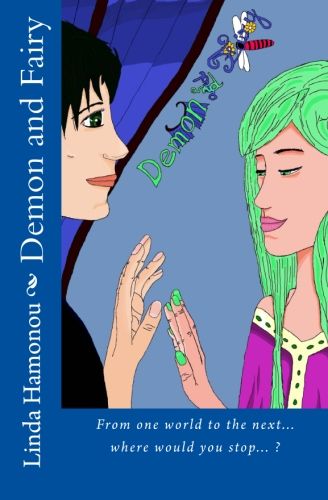 Demon and Fairy:
Seti likes to fly to the beach and to look into that magical tidal pool, to see her. She is the only one, removing his pain and almost making him forget the Chaos inhabiting him and escaping the Demon World where he comes from and where he can't have physical contact with anyone.
But one day, just looking isn't enough anymore… from one world to the next, Seti fights again the darkness inside and the darkness outside. Darkness can take unexpected forms.
Demon and Fairy is available at: http://www.amazon.com/Demon-Fairy-Linda-Hamonou/dp/1480137065
Thank you, Linda, for being with us today! Good luck with your writing and in all you do! Folks, if you'd like to learn more about Linda and her fine works see:

Her Amazon author page:
http://www.amazon.com/Linda-Hamonou/e/B008M1ZVDK
Facebook pages:
http://www.facebook.com/MesCrazyExperiences/
http://www.facebook.com/Linda.Hamonou.Writing.Corner
Blogs:
In English: http://crazypuce.blogspot.com/
En francais: http://crazypucefr.blogspot.com/
日本語で:http://lindanonikki.blogspot.jp/
Etsy store: http://www.etsy.com/shop/MesCrazyExperiences
Linda: Sorry for the delay and thank you for doing this Juli, I really appreciate it. ;D
No problem, Linda! Thanks for taking time out of your busy schedule for to be here. I hope you all will check Linda's work out and …I really hope you enjoyed this latest in our "Conversations" series!
A little more about Linda:
Born in 1983 in Brittany, France, Linda Hamonou spent most of her childhood reading adventure and fantasy books while exploring the folklore of Brittany. Later studying Physics, Linda obtained her PhD at Queen's University, Belfast in 2009. Her studies led to travels in Europe and the US, leaving her with a sense of adventure that carried her to the top of Machu Picchu. A Phd graduate in 2009, Linda discovered NaNoWriMo and became determined to succeed by writing her first novel, Demon Soul. After 6 months of hard work completing the novel with an eye toward self-publication, Linda also managed to draft her second novel Attic Mirror. Hard at work on her third book, Demon and Fairy, Linda has also completed a draft of a detective story not yet ready for publication. Juvenile, fantasy, fiction and Young Adult are her categories… so far but this motivated writer is sure to surprise all of us as much as she has surprised herself to date!
Thank you so much for being with us, today Linda and good luck with your work and your writing! Folks, if you'd like to check out more of Linda's stories, see her website at the above links. I hope you've enjoyed this latest in our "Conversations" series.  :)